What is peer-to-peer fundraising, and how can you leverage it to boost your nonprofit fundraising? After seeing thousands of fundraising campaigns, we see that peer-to-peer fundraising typically raises twice as much as compared to other digital fundraising campaigns.
Here's everything you need to know about peer-to-peer fundraising for your nonprofit:
What Is Peer-to-Peer Fundraising?
Peer-to-peer fundraising is any fundraising effort that relies on peers reaching out to each other on behalf of a cause. Your supporters fundraise on your behalf by reaching out into their social networks through personal and team pages.
Also known as social fundraising, personal and/or team fundraising, or p2p fundraising, peer-to-peer fundraising enables nonprofits to increase their reach, find new donors, and build deeper connections with their existing supporters.
Peer-to-peer fundraising has been a fundraising staple for years; fundraising runs and walks have operated on peer-to-peer principles for ages. But when you run peer-to-peer online, fundraising is simpler and more powerful for nonprofits.
Peer-to-peer fundraising catapults your supporters and donors into your organization's narrative; it is compelling and increasingly popular because the fundraisers become the heroes of the story.
Peer-to-Peer Fundraising Statistics: The Benefits
Peer-to-peer fundraising is a powerful technique that features three main benefits:
Builds Upon Existing Relationships
Traditional fundraising like grant writing and major donor relations require significant investments of time and effort. You have to build trust and cultivate relationships over time, which can be frustrating when you need to raise money immediately.
Peer-to-peer fundraising helps scale relationship-building by tapping into your current supporters' networks—their friends, family, and colleagues. You've built relationships with your existing supporters, and they've built the relationships in their respective circles.
Your supporters vouch for you, which works as a kind of shortcut to trust with their networks. And it gives your supporters a new way to get involved with your mission!
Multiplies The Impact Of Limited Resources
As a nonprofit organization, you're all too familiar with the challenge of working within time and resource constraints.
Peer-to-peer fundraising helps you make the most of what you already have by raising up an army among your current supporters. We typically see organizations raise twice as much with peer-to-peer fundraising than they do with traditional fundraising techniques.
These advocates are your organization's booster squad; they'll augment your ongoing fundraising efforts by raising funds on your behalf – and in some really creative ways.
Grows Awareness Organically
When your team of advocates champion your cause and raise funds, they'll start with their family, friends, and colleagues. As they do, they'll spread the word and share your story. It's one of the most effective forms of marketing: word of mouth. They'll tell new audiences about your message and mission in an organic way.
SOS Children's Villages of Illinois ran their annual holiday giving campaign through CauseVox for the first time in 2020. They received donations from 419 new donors: that was 75% of all their new donors in 2020.
"We don't expect to convert them all, but what we do have in place for those particular donors is their own track," shared Amy, "We are communicating with them independently of everyone else."
What Are The Different Types Of Peer-to-Peer Fundraising?
Peer-to-peer fundraising comes in many forms. From online campaigns to marathons and birthdays, peer-to-peer fundraising can adapt to your organization and your needs.
Here are a few common types of peer-to-peer fundraising:
Online Peer-to-Peer Campaigns
A traditional online peer-to-peer fundraising campaign is created by the organization, and supporters join it. These campaigns run for a fixed period of time and have an overall fundraising or impact goal.
Fundraisers participate by setting a personal fundraising goal towards the overall goal and share their personal fundraising pages with their friends and family.
An online campaign can run for a single giving day, like #GivingTuesday or a longer period of time. It can supplement or take the place of an existing campaign, like a year-end fundraising appeal. It can lead up to an in-person event or take place entirely online. Supporters may work alone or form teams.
The Autism Society of Minnesota launched a peer-to-peer fundraiser, the Toast to AuSM, on CauseVox and raised more than $25,000.
Here are 13 Innovative Online Fundraising Ideas for Nonprofits and Charities.
DIY Fundraising
DIY fundraising reverses the traditional campaign–instead of the organization being in charge, the fundraiser is. An individual chooses to fundraise for an organization, often dedicating a birthday or other milestone.
They may simply raise money, or undertake a personal challenge, like running a marathon or climbing a mountain.
If you'd like to add a peer-to-peer initiative to your fundraising calendar, but don't have the time or resources for a full, organization-run campaign, consider creating opportunities for DIY fundraisers. Your supporters can do them on their own schedule, with minimal oversight from you.
Innovation: Africa has a page that encourages supporters to create their own DIY fundraisers, with information and support to help walk them through the process. Ranan is a young man who created a personal fundraiser for his Bar Mitzvah to support Innovation: Africa.
Here are more DIY Peer-to-Peer Fundraising Ideas and Examples.
Peer-to-Peer Fundraising Events
These are often the first activities that come to mind when considering peer-to-peer fundraising: runs, walk-a-thons (both virtual and in-person), bowl-a-thons, golf marathons, and even gala-style fundraisers. You set a goal, and supporters fundraise in order to participate in the event.
Taking your peer-to-peer event online boosts its fundraising power. It makes it easy for supporters to share their campaigns, and simpler for you to organize. But what truly takes it to the next level is when you can keep everything in a single place: event registration/ticketing, fundraising, donation processing, and administration.
Summit Assistance Dog's Virtual Luncheon engaged their typical in-person table hosts to instead fundraise online with peer-to-peer fundraising. Their in-person fundraiser had a 212% ROI, while their virtual fundraiser had a 1617% ROI – that's 8x higher with the help of online peer-to-peer fundraising.
CauseVox's latest updates have made the integration of ticketing to easily sell tickets to your fundraising event, and even equip your fundraisers to sell ticket for you – making fundraising even better than ever.
Here are 12 Top-Performing Fundraising Event Ideas to help you get started.
Team Fundraising
Team fundraising can be added to any peer-to-peer campaign, but it's a particularly good fit for events. Individual fundraisers join together to work towards a goal.
Team Bungie alone raised over $80,000 for charity as part of a team-based board game competition by sharing their team page with their networks, creating a sense of urgency, and using incentives to drive up donations.
CauseVox makes team fundraising easy–participants can join a team in a couple of clicks.
Video: Top 10 Proven Peer-to-Peer Fundraising Tips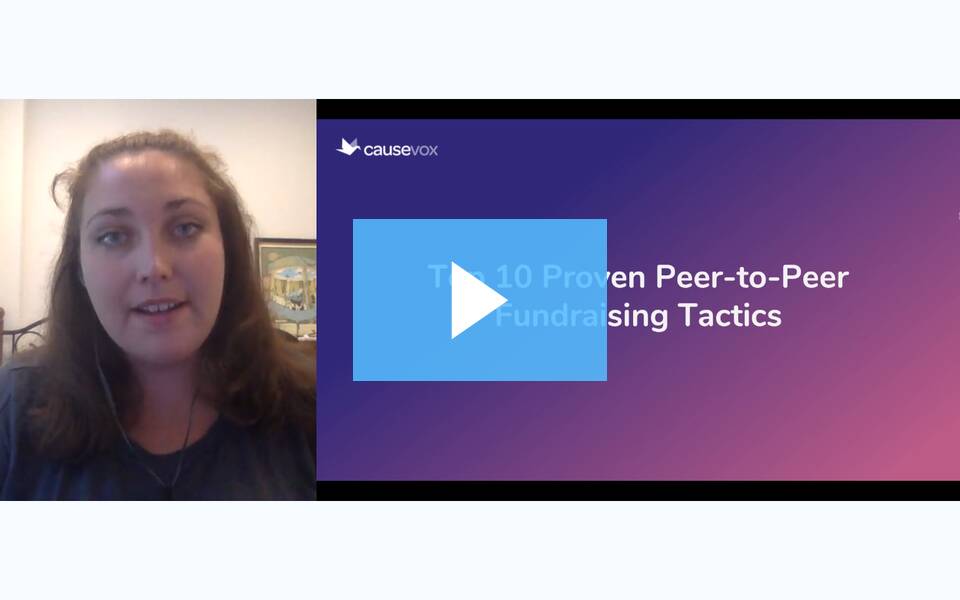 Peer-to-Peer Fundraising Best Practices: How to Get Started
Unlike so many other fundraising methods, getting started with peer-to-peer can be both simple and affordable. Here's how you can get started with peer-to-peer fundraising, learned from fundraisers who have run successful fundraisers:
1. Choose Your Peer-to-Peer Fundraising Platform
For your peer-to-peer fundraising campaign, you'll need a fundraising platform to share progress, tell your story, drive donations, and run your peer-to-peer fundraising pages.
You'll want to be sure that you choose the right peer-to-peer fundraising software to ensure success.
"The biggest thing is ease: ease for your fundraisers and ease for their donors. If it's hard for their donors to make a donation, they're just going to forget it, leave the page, and move on. CauseVox makes it so simple for donors and for fundraisers. I've never had a fundraiser need help setting up a page, it's that straightforward." -Nancy Ramos Girl Scouts of Northern Illinois
What to Look for in a Peer-to-Peer Fundraising Platform:
Easy to setup (not clunky, confusion software)
Mobile optimized + Apple and Google Pay to help you drive the most donations + peer-to-peer signups from any device
Quick and easy donation process (preferably < 15 seconds)
Quick and easy peer-to-peer setup process (preferably under <60 seconds) + capability to pre-fill page content for fundraisers
Easy customization and branding so you can create your unique campaign
Donors, peer-to-peer fundraisers, and admins alike can easily view fundraising progress
Ability to sell tickets, if your peer-to-peer fundraiser requires it
Create customized questions for donors and fundraisers so you get all the data you need (ie: T-shirt sizes)
Easily lets you embed videos and livestreams and share your story.
Here's what Andrea Buchanan, Executive Director of Spinal CSF Leak Foundation said about her experience using CauseVox for their Duradash activity challenge, "Thanks to CauseVox, our Duradash event was able to raise $30,000! I think the last time we did this event, in 2019, we maybe raised $5k? So this was a huge success, and we have been really pleased with CauseVox both on the back end and the user side."
Learn more about how CauseVox can meet all your peer-to-peer fundraising needs.
2. Create A Peer-to-Peer Campaign Plan
Like any great fundraiser, a peer-to-peer campaign works the best when you have a plan in place. The easiest way to start building out your plan is by identifying your goals, timeline, and structure. Before you build your campaign site, ensure you consider:
Set a fundraising goal that's specific (ie: $30,000)
The impact that reaching you fundraising goal is going to have: who will benefit and how many people will be impacted?
Set a timeline for your peer-to-peer campaign – we typically see a lot of 6-week p2p campaigns, but you should customize your timeline to your needs.
Consider how many peer-to-peer fundraisers you want to recruit, and how much you want each of them to raise.
Do you want to use teams? This is best for groups of people fundraising together + competitions.
Are you having people participate in an activity alongside fundraising? (ie. golf marathon, virtual walkathon, raise awareness, etc?)
Will you be incorporating any prizes, giveaways, or incentives for your donors or fundraisers?
Will you be be asking any corporations or other partners to either fundraise with you, promote your campaign, make a matching gift, or sponsor your fundraiser?
Once you have these things in mind, you're ready to get started building your campaign.
3. Easily Set Up Your Campaign Site
Your organization is unique, and your fundraising campaign should be, too. It should be easy for you to choose your own colors, add your logo, and make your own decisions about how you want your campaign to look.
Nancy Ramos from the Girl Scouts of Northern Illinois noted how easy it was to set up her Over The Edge peer-to-peer fundraising campaign with CauseVox "Honestly, it could take 10-15 minutes to set up if you already have the content and graphics you want to use," she says.
Peer-to-Peer Fundraising Campaign Checklist
Here's a checklist of items you can have handy to help you easily create your peer-to-peer fundraising campaign:
Campaign title
Write a great fundraising appeal that tells a story and drives engagement
Your logo and branding colors (ie: HEX color codes)
Graphics for social sharing, campaign site, and personal pages
0:30 – 2 minute video for page
Bank account details + EIN to set up processing
Suggested giving levels tied to impact for your donation form (ie: Donation Tiers)
Your fundraising platform should make it easier for you to setup your fundraising, not harder or more tedious. Skip anything that requires you to take a class or learn to code to be able to use it. You need to ensure that it's easy for you to set up and update the campaign site, manage your peer-to-peer fundraisers, and download your donation and personal fundraiser data easily.
Be sure you find your platform intuitive, so you won't need to call in your IT person to manage your campaign. Plus, be sure your platform has great customer support you can rely on.
CauseVox makes it easy for you to setup your peer-to-peer fundraising in less time and with less hassle.
4. Recruit Your Peer-to-Peer Fundraisers
Now that you've set up your peer-to-peer fundraising campaign, you're ready to start the recruitment process.
You'll want to ensure the sign-up process is as quick and easy as possible for fundraisers to ensure success.
When asked what one feature of CauseVox made her campaign so successful, Amy from SOS Children's Villages Illinois didn't hesitate with her answer: "I think throughout the whole campaign I only got one question [from peer-to-peer fundraisers about how to setup their page]. I think it was so easy for everybody to use that it just flowed. I had all generations and levels of users. It was just that easy to use."
If you've ever run a peer-to-peer fundraiser before, you know that only getting a single question throughout the whole process is basically a miracle. But CauseVox made it simple for fundraisers to get their pages set up with no hassle.
Peer-to-Peer Fundraising Candidates
You don't want to just recruit anyone to fundraise for you. Here's the best candidates for peer-to-peer:
Board members
Staff
Volunteers
Partners
Returning donors
Program alumni
Past event attendees
Here are a few quick tips to best recruit fundraisers:
Consider doing a soft launch: ask a few select people to start fundraising first. It'll work as social proof and more people will sign up to fundraise.
The first 2 weeks of a campaign is typically when you'll recruit the most fundraisers
You'll want to use multiple channels to recruit fundraisers (ie: phone calls, sms, emails, social media, and more)
Consider doing a webinar training to help fundraisers get setup for success
Here are more tips to help you recruit peer-to-peer fundraisers.
CauseVox makes it easy for your supporters to join your campaign, create their personal fundraising page, and start raising money in under 60 seconds. They can customize their pages, add text, join teams, update their supporters, and share their progress easily with their self-service dashboard.
5. Coach Your Fundraisers
When you're running a peer-to-peer fundraising campaign, you're not the quarterback–you're the coach. Your volunteer fundraisers are out on the field making the plays and scoring the touchdowns, while you draw up the game plans, help them play to their strengths, and cheer them on.
Help your team get the most of our their campaigns by:
Giving Them Tools And Resources
The easier you make it for people to fundraise, the more they'll do it. In addition to giving them an easy-to-use, frustration-free fundraising platform, give them a fundraising toolkit that includes:
A campaign overview
Brand guidelines
Images and logos
Fundraising email templates
Canned social media posts to copy and paste
Thank you and recognition tools
Fundraising tips
While some people will want to customize their personal fundraising pages and emails, others will not have the time or desire to create their own content. CauseVox makes it simple for you to create. They can customize as much or as little as they want.
This fundraiser customized his fundraising page with personal stories and information while keeping the pre-established colors and styling.
Keeping In Touch
Fundraising is probably not the only thing going on in your supporters' lives. If you don't engage them, it's easy for peer-to-peer fundraisers to lose steam or kind of forget about their campaigns after the initial launch. Stay in contact with updates and encouragement. Consider sending a weekly email to rally the troops and let them know how the campaign is going, and what actions you need them to take.
Celebrate Every Win
As well as the coach, you're also the head cheerleader. Celebrate every single win to keep enthusiasm high.
Nancy Ramos did just that, and it played a key role in her peer-to-peer success: "The nice thing about CauseVox is that you can see when people are fundraising," she says. When alerts like, "Annie just got six donations!" popped up on her CauseVox dashboard, Nancy made sure to check in Annie to congratulate and encourage her. "Keeping in contact with your peer-to-peer fundraisers is the biggest thing," Nancy advises.
Reach out to congratulate your fundraisers when you see they've reached a milestone like getting their first donation or reaching their fundraising goal.
You can celebrate wins in the overall campaign, too. Reaching your fundraising goal is cause for celebration, of course, but don't overlook smaller opportunities, too. You can shout-out reaching a significant dollar amount, like your first $1,000, or a certain number of fundraisers or donors.
This builds excitement with both your fundraisers and donors.
6. Share Stories To Get Your Message Out
Nonprofit storytelling fuels fundraising. It's what inspires action and helps donors understand why your cause matters. Stories stick in people's memories, activate their empathy, and foster deeper connections to your cause.
When you're getting your peer-to-peer campaign message out, your marketing and fundraising strategy is essential to your success.
56% of social media users who donate said that a compelling story is what made them donate.
As you build out the content for your campaign, there are two things you want to ensure you do: tell your story, and encourage your peer-to-peer fundraisers to share their story.
Guidelines For Good Stories
We like to use a few guidelines to help us write any good story that drives donations. You'll want to:
Communicate what you're trying to accomplish
Tell why that matters and what the impact will be if you're successful
Tell a story
Answer the question "why now?"
Include a clear call to action to donate
Here's an example from Fiver's #GivingTuesday crowdfunding campaign appeal:
As you think about writing stories, whether in your fundraising appeal or elsewhere, there are a few key points to keep in mind. The best stories that we've seen include these elements:
They're sourced from the community
They use quotes and images
They tell the same story across multiple mediums
They're designed to be shared
Here's how Stupid Cancer encouraged their community to tell their own stories on social media:
Miles 4 MDLT also encouraged their virtual hikeathon fundraisers to use the CauseVox blog feature to share how their hikes were going and pictures they had taken along the way. This encouraged fundraisers to stay in touch with their donors throughout the process. Plus, it gave fundraisers more opportunities to share their personal stories in an organic way that drew in donors and illustrated the progress each fundraiser was making.
Once you have stories prepared, you'll want to spread the word as much as possible to drive donations for your nonprofit. Here's some channels you can use to continue storytelling:
Your website
Email
Social media
Direct mail
Text
Livestream events
Radio/TV/media
Phone calls
Truly the sky is the limit! Any ways you can tell a story is a way that you should be reaching out to potential donors. The more you share, the more potential donors will be a part of your campaign.
7. Make Data Reconciliation Easy
Once you get to the end of your peer-to-peer campaign, the work of reconciling data with your database or CRM and continuing communications with your donors begins.
If your fundraising platform doesn't integrate with other software, you're going to spend time transferring data from place to place. This is both a pain in the neck and a tremendous waste of time and effort. Choose a platform that will seamlessly connect with the rest of your fundraising software, so that data updates across platforms automatically.
CauseVox easily connects with your favorite tools, including Zapier, Salesforce, Kindful, MailChimp, ConstantContact, Google, ConvertKit, Quickbooks, and more. That means you'll spend more time actually fundraising, and less managing minutiae.
Here's how April Hearne used CauseVox + Zapier to set up time-saving automations + streamline their fundraising.
Need more ideas to help you get started? Check out our list of 200 fundraising ideas for nonprofits to help inspire your next peer-to-peer fundraiser campaign.
Peer-to-Peer Fundraising Ideas
1. Walks, Runs, & Challenges
If you're looking for a peer-to-peer fundraiser with potential for a high ROI, try a walkathon, race, or challenge. These activity-related events can bring your nonprofit in front of a new audience and potential new donors. Not only can you raise money through event registration, but you can also supplement with sponsorships, branded merchandise, and corporate matches.
2. Giving Days & Projects
You can also consider implementing a campaign during a day (like Giving Tuesday) or for a specific project. Giving days and project-based campaigns typically run for a fixed period of time and work towards a specific fundraising goal.
Project based fundraising campaigns include (but aren't limited to):
Annual campaigns
#GivingTuesday & other giving day campaigns
Capital campaigns
Matching gift campaigns
Campaigns raising funds for a specific program
Food/supply drive campaigns
While most project-based campaigns run from 30-60 days, it's not uncommon for capital campaigns or program campaigns to run for a longer duration of time.
3. DIY & Third-Party Campaigns
This type of peer-to-peer fundraising lets your fundraisers take the reigns by creating and running their own campaign.
DIY campaigns come in different shapes and sizes but some common types of DIY campaigns include:
Birthday campaigns
Personal challenge campaigns
Volunteer Trip fundraising campaigns
With DIY campaigns, you can expect them to be long-term, focusing on knocking out milestones or supporting someone in need.
See some more of our favorite peer-to-peer fundraising ideas here!
Peer-to-Peer Fundraising Tips
To get you on the right track, we've sourced several best practices and tips that you can implement in your next peer-to-peer fundraising campaign.
1. Offer Incentives
Prizes and incentives are a great way to motivate your supporters into action. There's two types of incentives you can offer:
Tangible – physical items such as branded merchandise and raffle items
Intangible – emotional incentives such as heartfelt verbal or written donor acknowledgements
Incentives are not only a way to inspire giving but they're also great for recognizing high-capacity donors and building lasting relationships. When choosing what types of incentives to offer, it's worthwhile to know your audience and what motivates them.
2. Optimize Your Donation Page
Having a high-functioning donation page is key to attracting and retaining donors, raising more funds, and garnering engagement. If your donation page doesn't deliver or if it's clunky or confusing, chances are, you're going to lose out on donations.
So what makes a great donation page anyway?
In short, the goal is to make your donation process a seamless experience for your donors. Right off the bat, here's a few easy tweaks to elevate your donation page that you can try:
Brand your page with your org's logo, fonts, and color scheme
Make your donation page mobile-friendly
Limit the number of fields donors have to complete
Add a recurring gift or pledge option
Include suggested donation amounts
Include an option to allow donors to cover any transaction fees
And that's just barely scratching the tip of the iceberg – you can do so much more with your donation page to make it irresistible to donors.
3. Keep It Simple
We can't stress this enough. Simplicity is underrated.
It's easier said than done but try not to overthink or overcomplicate things. You don't need to add all the bells and whistles to your campaign if that's not something your audience is asking for.
Instead, find what works for your org and work to refine that. You don't want to do too much too fast. Finding what works (and what doesn't) is an iterative process so start off with the basics and scale up over time.
CauseVox Helps You Raise More With Peer-to-Peer Fundraising
CauseVox is here to help you streamline and tidy up your online fundraising, making it more effective and less of a headache. No clunky software, endless contracts, or needless complexity.
With CauseVox, peer-to-peer fundraising is less complex for you and your fundraisers alike, helping you raise more with less effort.
Learn more about how CauseVox can help you raise 2x as much with peer-to-peer fundraising.
This post has been updated in 2022 for freshness and accuracy.